Our database is compiled two different ways. We research and add many of the items, and some items are submitted by other members. For the most part, our members are just as precise as we are. However, there may be some entries that are inaccurate or incomplete.

On the website at www.myfitnesspal.com, when you view the nutritional details of a food, there is a link you can click to confirm that the nutritional information is correct.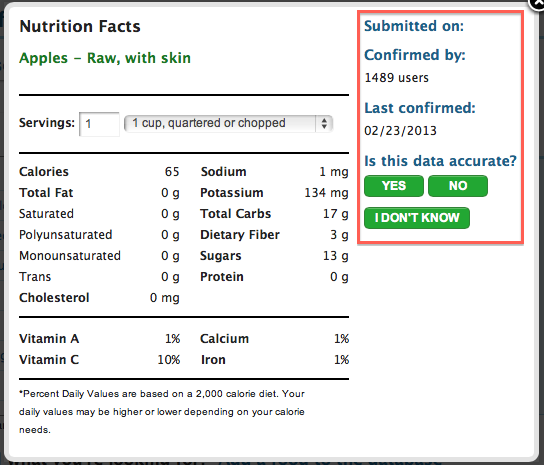 For each item, how many times it has been confirmed by other members to help you to determine the item's accuracy. If you find an item that is inaccurate, you can edit it yourself to provide the correct information. By allowing user additions and edits to the database, the database grows quickly, and its accuracy steadily improves.

To correct an inaccurate entry, log into the website at http://www.myfitnesspal.com. Mobile app users should log in using the same username and password they use in the app.

Once you've logged in, click the "Food" tab, then "Database."

Search for the food item and click on it in the search results, then click the item's "Edit" button. (Please note that foods entered by the MyFitnessPal Staff cannot be edited by users).





On the next screen you can update the incorrect information. Make sure you click the green "Save Changes" button when you have finished.

When you edit an item in the database, you are effectively creating a new food item. If you have logged the original item in the past, the "version" visible in your Most Used or Frequent list is likely the original version. Adding the item from those shortcut lists will add the original values to your diary. For best results, add the item from your "My Foods" list to ensure you are logging the edited version.

Currently in our mobile apps, many of these features are not yet available - you can't view how many times an item has been confirmed, or edit items to provide the correct information. We hope to add these features in the future, along with additional methods to ensure that our nutritional information is both accurate and complete.