Using MyFitnessPal's Wear OS companion app, users are able to add frequently logged foods to their diary, view their current daily nutritional intake, add water, and quick add calories directly from their Watch. The MyFitnessPal Wear OS companion app includes 8 different Complications and 3 different Tiles to choose from.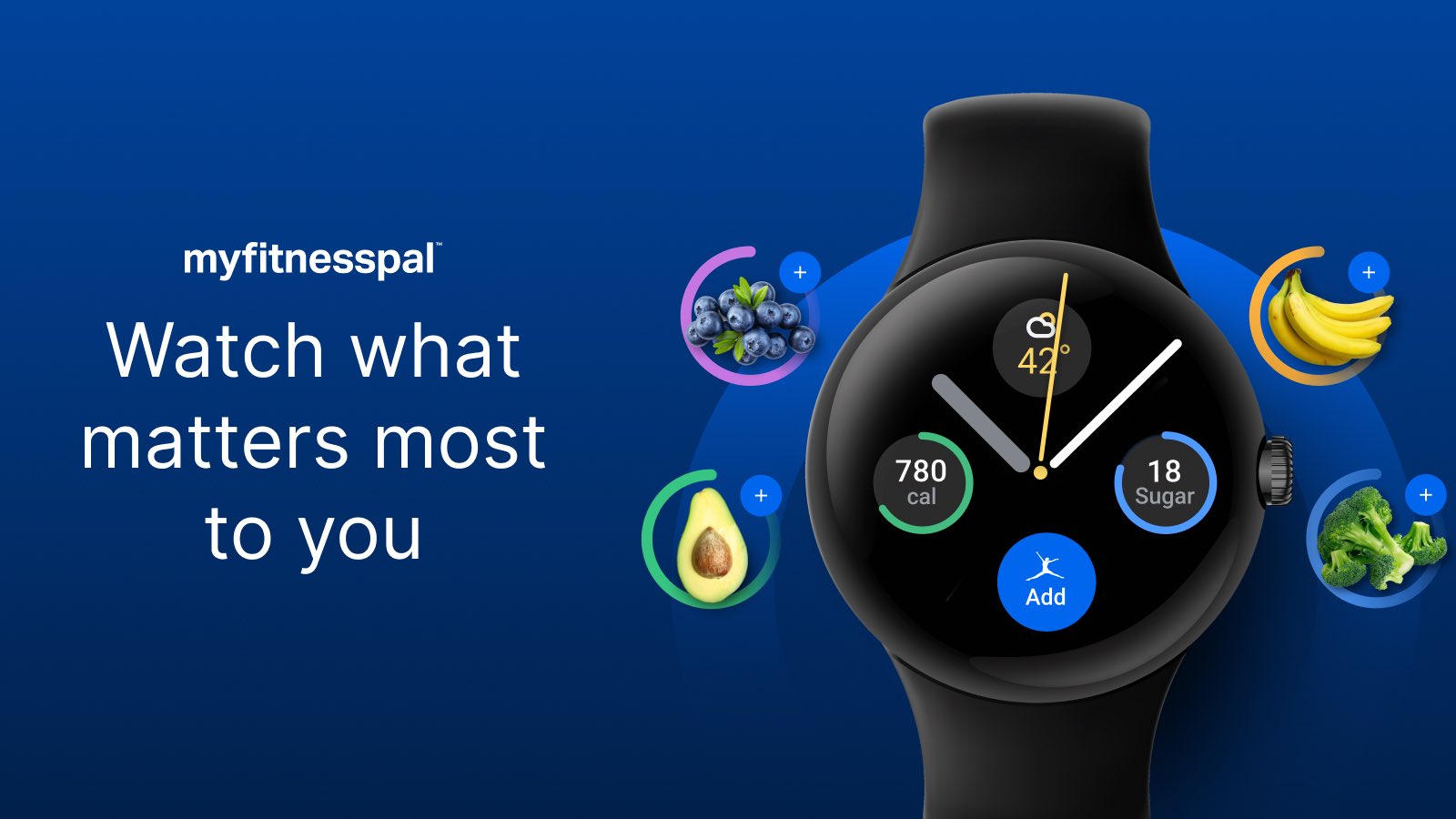 *This initial version is only available in English (your personal device will need to be set to English) and is featured in the Google Play Store. We hope to add more languages as we expand this feature in the future*


How Do I Install the Wear OS MyFitnessPal App?
You can download the watch app from the Play Store. The Watch app can be downloaded individually as well as along with the Android app. If you have a Wear OS compatible watch linked with your phone, you should see the option to install the Wear OS app on your MyFitnessPal Dashboard if you haven't already installed the MyFitnessPal app on your Watch. If installing the watch app from your phone, there can be a 5 minute delay before installation begins.


Why Don't I See an Option to Download this Watch App?
The initial version of the Wear OS app is only available to users with their device set to English.
What Versions of Wear OS is the MyFitnessPal App supported on?
MyFitnessPal is supported on Wear OS 2, 3, and 4.
Will this Track my Steps?
This app is not an exercise integration app such as Health Connect or Samsung Health so it does not have the option to track your steps. You can still link with Samsung Health or Google Fit in the Android app in order to use your Android device or associated Samsung Health or Google Fit device to track your steps.
How Do I Log into MyFitnessPal on my Wear OS Watch?
After the install finishes, opening the Watch App will take you to a Login Screen. Tapping the Log in on phone button will launch a login window in the Wear OS app or your Watch app on your phone. Once you log in on your phone and Allow the Wear OS connection, you'll see a Signing in prompt on your watch which will show the account you've logged into.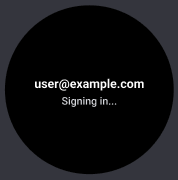 What Can I Do on the Wear OS App?
The watch app will let you Add Frequent Foods, show you your Summary (including Calories, Carbs, Fat, Protein, and Water), as well as your Nutrients breakdown for the day.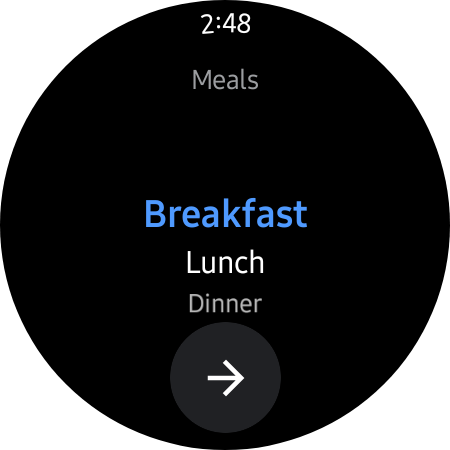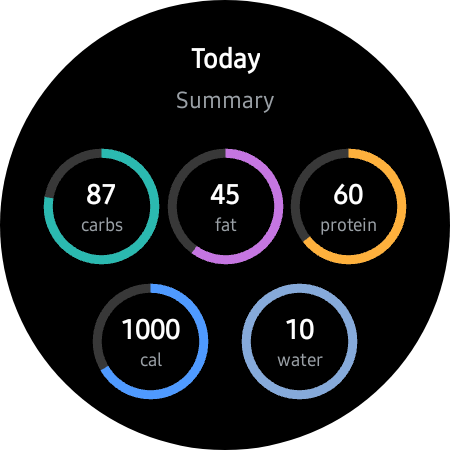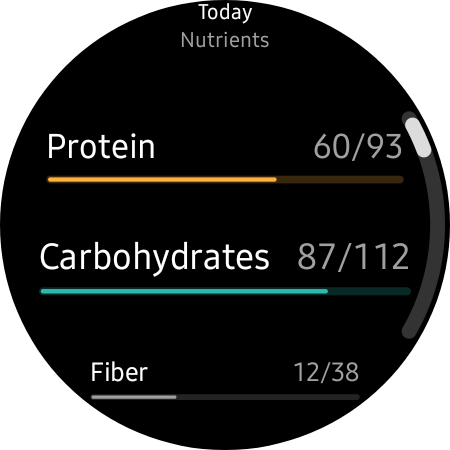 *At this time Net Carbs is not available on the Wear OS app.*
Users also have the option to add Water and Quick Add Calories.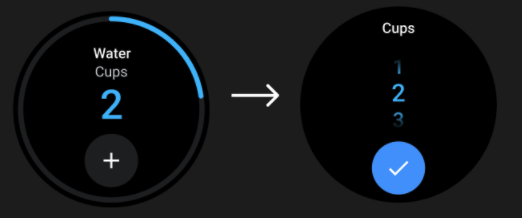 How Can I Log My Frequent Foods on the Wear OS app?
Users can log their Frequent foods from the Home Screen of the MyFitnessPal watch app or by adding a Frequent Food Complication to their Watch face.

Once you select which meal you'd like to add to, you'll be able to scroll through a list of your most frequently logged foods (over the past 6 months) for that meal. You can select the + next to the item to add that item to your selected meal. The Wear OS watch app will only add to Today's date.
*Timestamps are not yet available but coming soon*
What Tiles are Available?
We have three different Tiles available for our Wear OS app, Calories, Nutrients, and Nutrition.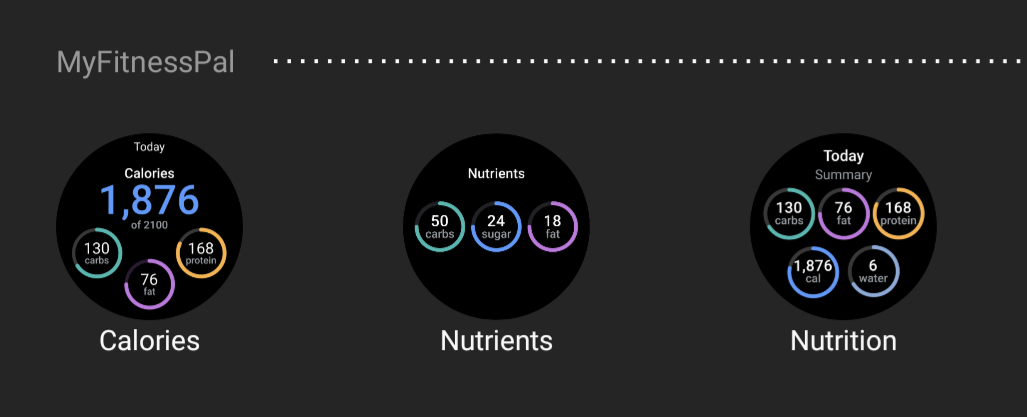 The Nutrients tile is customizable and users can add up to three different nutrients to keep track of. These include Protein, Carbohydrates, Fat, Saturated Fat, Sugar, and Iron.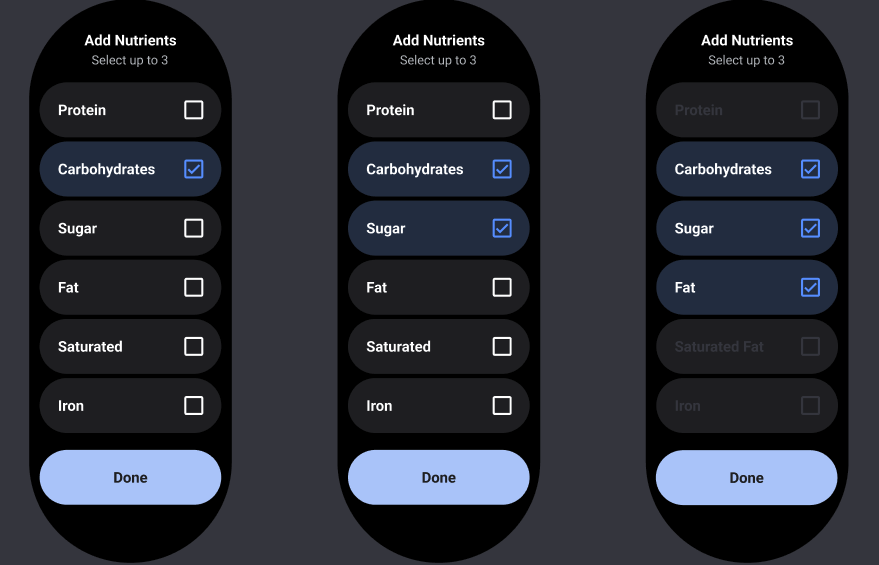 If you'd like to change your Nutrients tile to different nutrients, you'll need to delete the tile on your watch or Wear OS phone app, and re-add the Nutrients tile with your preferred nutrients.
What Complications Are Available on my Watch?
We have eight different complications available for our Wear OS app, Quick Add, Calories, Calories Burned, Carbs, Fat, Protein, Water, and Log Food. If you cannot find a MyFitnessPal complication to use, please try switching to a different Watch face to see if they are available under a different face. Watch Faces that will work with our complications include: analog dashboard, digital watch-face, simple classic, premium analog, and color duo.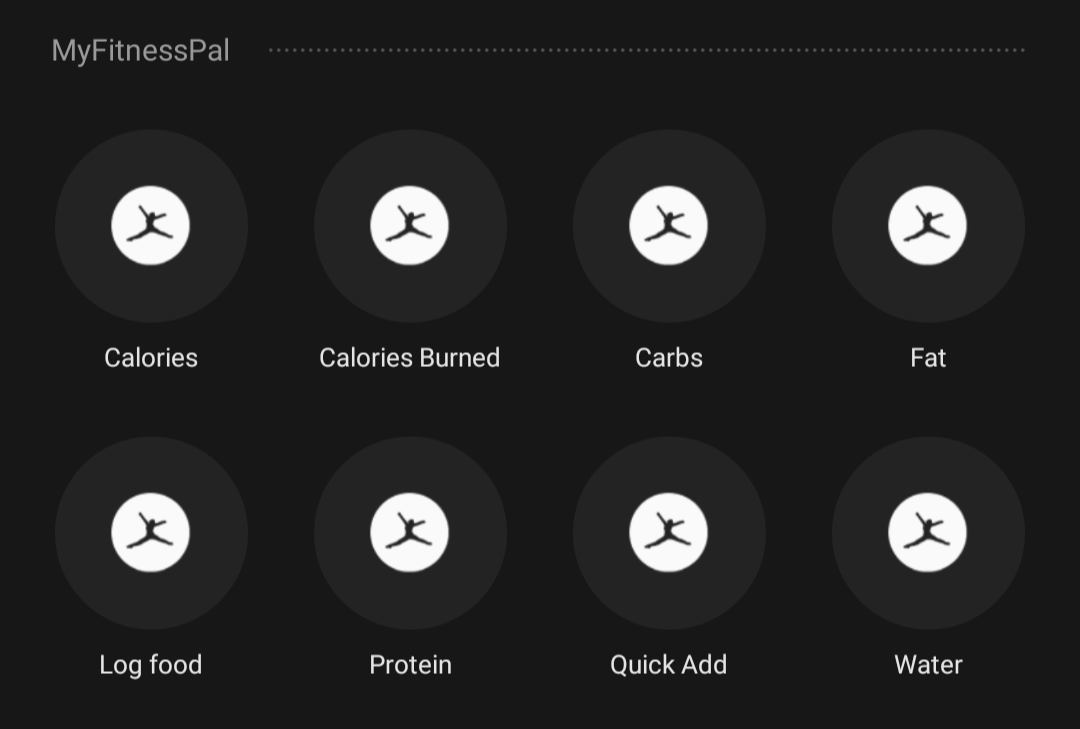 Can I Change My Water Goal?
Male users have a default water goal of 85 ounces and Female users have a default water intake goal of 64 ounces. These cannot be changed at this time.

My Account is set to Kilojoules/Ounces but the Wear OS app is still Displaying Calories/Cups?
Currently the Wear OS app only displays Calories and Cups, but we are looking into adding Kilojoule and ounces options in the future. Adding a specific quick-add calorie amount to the watch app will still convert that calorie amount to kilojoules when viewing the addition on your Android app.
Will this Work on My Older Samsung Watch/Tizen Watch
No. As of November 2020, we have discontinued support for the Samsung Watch app.
Any older Samsung watches running Tizen will not be able to use this app as it's only available on the Wear OS platform. It is available to download on the Samsung Galaxy Watch 4.


How Long Does it take the Watch App to Sync my Information?
Once opened, the app can take up to 30 seconds to update your information so please be patient if you do not see your newly added information immediately.
Why Can't I Find this in the MyFitnessPal App Gallery?
Since it's not an exercise integration like Google Fit, Health Connect, or Samsung Health, the Wear OS app will not show under the Apps and Devices section of the app or website. Please refer to the top of this FAQ for how to download and log into the MyFitnessPal Wear OS app.


If you have any other questions not addressed in this FAQ, please feel free to reach out to our support team here.